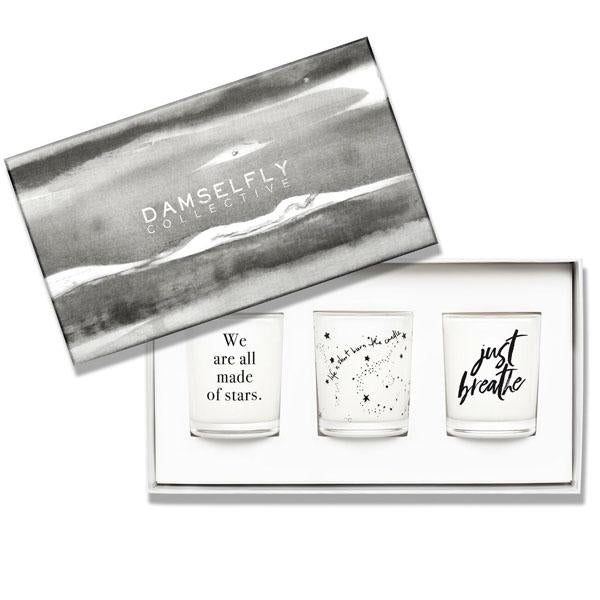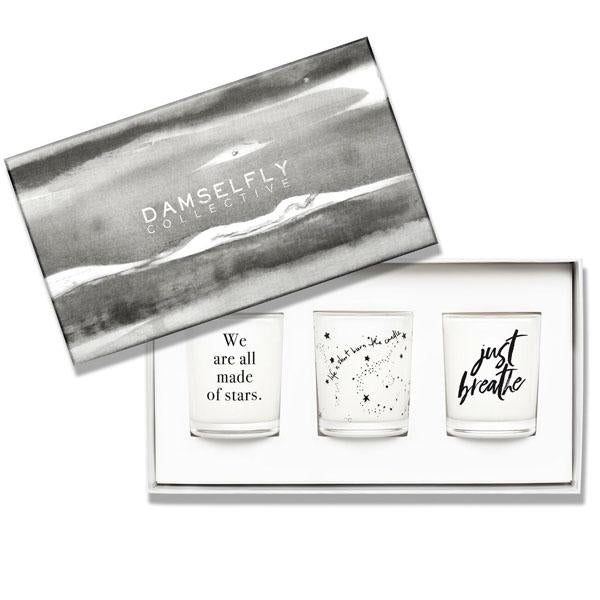 Just Breathe - Gift Set
Scented Candles
DAMSELFLY
In stock
A mini gift selection of our favorite fragrances, Amala, Grace, and Kenzi. Pretty enough on their own or perfectly sized as a collection, the trio features our new galaxy print and dreamy watercolor artwork.
Finished with silver foil detail and a cheeky quote inside the lid makes this the ultimate gift for someone extra special (like, maybe yourself?)
3 Candle Gift Set
Burn Time: 18 hours each
Weight: 55g / 1.94 oz each
Made in Australia
Description
DAMSELFLY
Home of the original QUOTE CANDLES! Part sexy, part charming, part naughty, and still a little bit delicate.
SHINE BRIGHT. BE FIERCE. FEEL THE MAGIC. WELCOME TO DAMSELFLY, THE SHOOTING STAR THAT JUST SMACKED YOU IN THE FACE.
At Damselfly, it's not all about rainbows and butterflies We want to hit you in the face, right in the nose, with our triple-scented aromas and then in the eyes, with a killer quote.
Come on baby, light my fire...